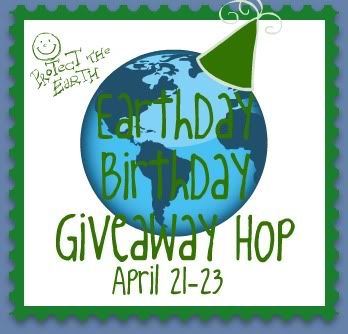 To celebrate Earth Day 2012, we've joined up with a team of 50 bloggers to bring you a fantastic Earth Day Giveaway Hop Event, co-hosted by The Kids are Grown, Now What?, Planet Weidknecht and Going Crazy, Wanna Go? Each participating blogger is holding a giveaway for an earth friendly product or prize pack!  After you've entered our Green Your Pet Giveaway here, be sure to visit the other blog links below for LOTS more Earth Day Giveaways and Prizes!!!
Rockin' Green has a huge following, due to the popularity of their eco-friendly, all-natural ingredients and very effective formulas for baby, home and pets. They recently won the 2012 About.com Reader's Choice Award for Best Detergent!
Daisy and I have been big fans of Rockin' Green since we were introduced to them last year and did a product review and giveaway of their all-natural cleaning products for our readers. Daisy's favorite is their Dog House Rock pet bedding and toy detergent, which we use to keep her blankets and pillows fresh and clean! I LOVE the all-natural Melody Room Spray in Lavender Mint, which keeps our place smelling nice and fresh!
To help us celebrate Earth Day, Rockin' Green wants one lucky reader to Win a duo of our favorite products! This prize includes 1 Bag of eco-friendly Rockin' Green Pet Bedding & Toy Detergent plus 1 bottle of all-natural Rockin' Green Melody Room Spray in the scent of your choice!
This giveaway runs thru April 23, 2012, is open to US residents age 18+ and uses the Rafflecopter Widget for FAST and EASY ENTRY! There are multiple entry methods to give you additional chances to win, but just choose the ones you want. Email addresses and other info are only used to verify and contact the winner. Rest assured that your information will never be sold or shared with anyone. All entry methods are subject to verification. Please make sure you provide all required information or your entries won't count!
Visit all the blogs participating in the Earth Day Giveaway Blog Hop for more chances to win eco-friendly and all-natural products and prize packs!!!