This post brought to you by Vectra flea & tick control. All opinions are 100% mine.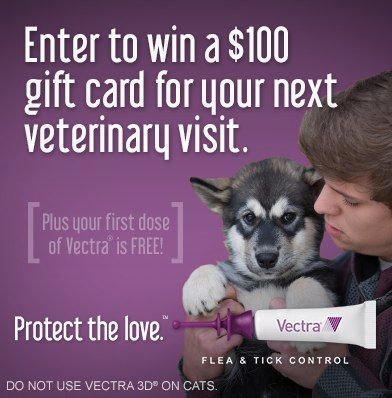 As pet parents, we do everything we can to protect and care for our fur kids. That includes regular visits to the veterinarian, and keeping up with the preventative measures they recommend. When preparing for our vet visits with Daisy, I usually make a list of all the questions and concerns I want to ask her Doc. That helps keep me from worrying about forgetting anything I need to know to keep Daisy healthy and happy! It's our job as pet parents to do the worrying, so our pets can enjoy the good life.
One very important thing to discuss with your pet's veterinarian at your next visit is flea and tick control. Not only is this an issue because no one wants itchy fleas to take over their home or put their fur kid through the misery of nasty bites, but fleas can also spread disease and parasites, cause skin infections and more unpleasant-ness. And ticks are known to carry and spread Lyme Disease and other serious illnesses.
Claim a Free Dose and Enter to WIN $100
Vectra want to help you protect your pets with their Protect the Love Sweepstakes. Each week, they're giving away a $100 gift card for the winners to use at their next veterinarian visit. AND, everyone who enters gets to claim a FREE dose of Vectra flea and tick control for their dog or cat.
All you need to do is enter the Protect the Love Sweepstakes here then visit FirstDoseFree.com to get your free dose of Vectra flea & tick control
Learn More About Vectra
If you're not already familiar, Vectra is available through your vet's office and is a fast-acting, long-lasting, broad spectrum flea and tick protection. Vectra makes options for dogs and puppies as well as cats and kittens. Here's a short and sweet video about protecting your dog with Vectra 3D:
For more news and info be sure to visit Vectra on Facebook and Follow @VectraPet on Twitter. You'll find loads more tips and advice to help YOU protect the love so your fur kid can enjoy their life free of flea and tick worries!